Building up your Instagram community can be very beneficial to the expansion of both your business and your following. Not only do you come up with new material, but you also develop new contacts in the process! Also, some very exciting news: collaborating on Instagram has just become much simpler.
On Instagram, there is a wide range of opportunities for you to work together with other users and companies. The behavior of giving and receiving shout-outs is fairly popular. However, there is a strong new feature that has grabbed Instagram by storm.
The Instagram Collab feature is increasingly becoming an essential instrument for Instagram Creators who are wanting to earn followers and connect with one another's communities to grow their respective audiences!
Why is the Instagram Collaboration Feature So Valuable?
A more modern strategy for co-publishing feed updates and reels is embraced by collaborations. You can use the Collab function with both picture and video postings; however, the vast majority of successful Collabs are in the style of a video (since they leverage the popularity of short-form video content)!
People over the age of 25 who use Instagram spend more than 32 minutes each day on the app, and the majority of their time is spent watching videos. It's never too soon to start pressing "record" on your keyboard!

Why are Instagram Collaborations Becoming So Popular?
Collaborations are an excellent way to extend your sphere of influence as a Creator or a Business. When two people collaborate on an Instagram post, the usernames of both of those people will display in the header of the post!
This ensures that the collaborative post will be seen by both groups of followers, as well as appear on the grids of both profiles.
Because you are "sharing" ownership of the post, you will also benefit from the total number of shares, views, likes, and comments! In the end, you will save time as a result of the feature that rewards everyone who was part of the creation of the post.
Additionally, the feature will extend your reach and increase the interaction you get.
How to Collaborate with Another Instagram Account?
Collabs let you invite another user to collaborate with you on a feed post or reel inside the app. You have the option to invite a collaborator whenever you tag other users in a post.
Select "Invite Collaborator," and continue sharing the content as normal. The request will be sent to the co-author's DMs (direct messages).
Your request must first be accepted by them before the post can be published on their profile grid.
It will immediately appear in your direct messages (DMs) if you are requested to participate in a collaboration. As soon as you accept the invitation, both of your handles will be shown at the very top of the post.
Instagram Collab Etiquette
When developing a straightforward plan for a collaboration, the first thing you should do is decide which Brand or Creator would be an ideal partner for the endeavor! Make a list of 3-5 accounts to whom you might send a collaborative pitch.
First things first, do your assignment. Link up with someone who has a similar or complementing audience. Send some recommendations for the sort of Collab you'd want to run.
Think of Collabs as a mini-campaign if you and another person are working together to create the content. You and the other collaborator are in charge of managing it!
You also have the option of cross-promoting posts that are already live. They need just a minimal amount of cooperation on the part of the co-authors involved.
Note: Before asking someone to work together, ensure to first confirm the collaboration with someone else! Give your collaborators advance notice of when your Instagram post or Instagram reel will go live so that they may participate as soon as they can.
Why will Instagram Collaborations Continue to Proliferate in the Future?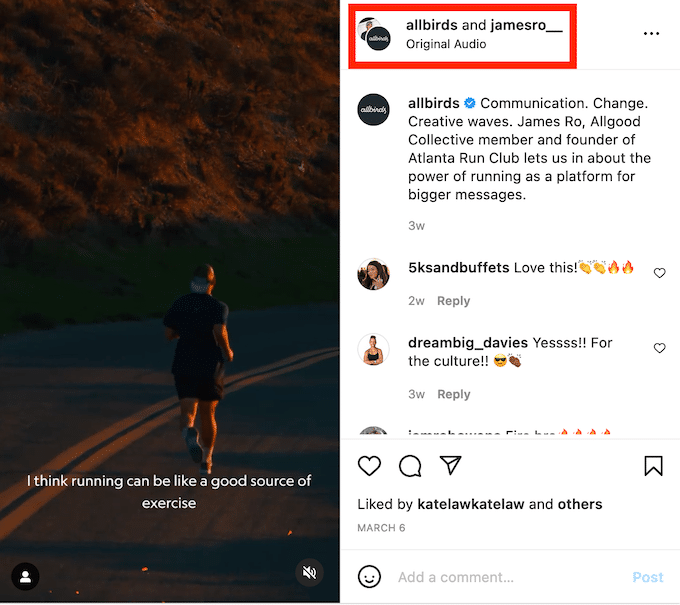 Interaction with other people is the foundation of social media. Your social media presence will be enhanced as a result of your collaboration since it will increase the number of people who see your profile, it will increase confidence in your business, and will help you develop a community.
E-commerce is transitioning towards social commerce; hence, if you want to build your influence, brand, or company in 2022 and beyond, it will be essential for you to collaborate with others.
If you need more engagement on your Instagram posts we can help!